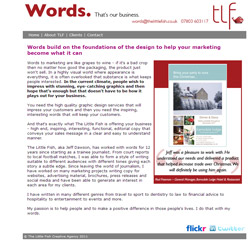 The Little Fish is a small team of creative professionals providing a complete marketing service to clients around its base in Plymouth, Devon. Services include branding, literature design, copy writing and web design and SEO. They have produced websites for a wide range of businesses, including high-end database and e-commerce solutions. However, it was addressing the web design needs of small businesses that The Little Fish was finding difficult.
"We are used to using tools like Dreamweaver for website design, but it was just too much of an overhead for small sites" says Jeff Dawson, The Little Fish's founder. "Small businesses and one-man-bands are increasingly demanding simple 2 to 3 page websites for very little cost and are not expecting to pay on-going maintenance fees."
Jeff was introduced to JustType through a business acquaintance and decided to try the product for a small business customer.
"I was amazed at how quickly I could prepare a clean and professional looking website," added Jeff. "It soon became clear that this was an ideal tool for designing simple sites, very cost-effectively."
The Little Fish has now adopted JustType as its preferred design tool for SME websites. As it is based on pre-configured layouts, the design team doesn't have to cost in creative design time for building smaller sites from scratch. In most cases the websites built using JustType have been handed over to the clients so they can be maintained themselves.
"The DIY maintenance aspect of the JustType product is a very useful selling proposition for us, and differentiates The Little Fish from many of our local competitors," explains Jeff. "Many small business clients are worried about the costs of future updates to their sites."
There is however, plenty of scope for value added services. Many of the JustType sites that The Little Fish have designed have involved charging for upfront services such as graphic masthead design, copy writing and even photography. This means website design using JustType is very profitable for the company as the cost for the basic site is just £49, including hosting and domain name registration, and about a couple of hours of their time. The Little Fish also receive annual commission from every JustType website they sell, building on-going revenue that requires no input or support.
"It may be a tool for creating simple websites, but once you get to know the product there are some really powerful features that allow us to make the sites look bespoke," continues Jeff. "We are also impressed with the fact that the JustType website itself is built using the JustType product, a fact that we point out to our clients. And when we do hand over the sites to them they soon get to grips with the online Administration Centre, which they use to maintain their own site.
"SEO is another important service we offer our clients. We were therefore very pleased when we saw the excellent results we achieved with JustType. The product provides us with all the necessary fields on each page for Meta tags and this combined with good content has made SEO a breeze."
Once The Little Fish had adopted the product it decided to become an official JustType Reseller. This provides a number of benefits for the company, including: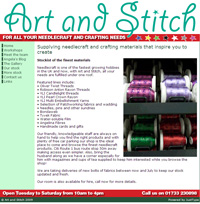 The Little Fish provided a complete website design solution for Art 'n' Stitch, a shop supplying needlecraft and crafting materials. This included masthead graphic design, copy writing and the photographing of their premises and products.
Once complete the site was handed over to the client for on-going maintenance. This was an important factor for the shop as they run a number of craft workshops throughout the year, which are detailed on an events page on the website that needs constant updating.
Visit Art 'n' Stitch >>>