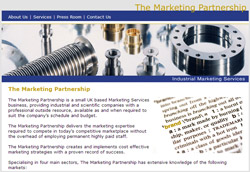 The Marketing Partnership is a small PR agency based in Bearsted, Kent that manages the press and marketing activities for a number of engineering and technical-based companies throughout the UK. Even though they specialise in PR, their clients often look to them to supply the entire range of creative services, including literature design, websites and advertising copy. Some of these additional services are sub-contracted out. It was when they wanted to expand their business into other areas that The Marketing Partnership came across JustType.
"One area that we wanted to expand our business into was the design and maintenance of websites" said Graham Scott, the agency's Proprietor. "We designed and manage a number of our client's sites, but as we don't design websites on a regular basis we can't keep track of the latest techniques or become competent with the design tools we use."
The company decided that an on-line website building tool would be a great way for them to expand their website design service to smaller businesses without the overhead of complex design software. They could also keep the entire design process in-house and therefore maximise profits from each project.
"We looked at a number of on-line website tools before choosing JustType," explained Graham. "It had a number of features that made it an ideal tool for our needs, including the ability to quickly and easily create professional looking websites and the fact it could be completely OEM-branded."
The own-branding of JustType was an important consideration for the company as they were keen to set their own pricing and not necessarily reveal to their clients that the websites were being built from a template-based on-line design tool.
"There is nothing in the final site to indicate that it was built with JustType," added Graham. "The Administration Center is branded for us and all the input forms, help and tutorials are completely generic, with no mention of JustType. This means in the cases where we hand over the site for the client to maintain, JustType is not mentioned anywhere."
Graham did have some concerns about using off-the-shelf design solutions. "One of the issues with choosing a website building tool was whether we could create designs that looked unique and bespoke. As soon as we started using JustType we were impressed with how easy it was to make the sites look different from each other. The choice of layouts and colours, together with bespoke graphics means we can design good looking sites that our client's have been very happy with."
The adoption of JustType as their preferred website design tool coincided with The Marketing Partnership wanting to upgrade their own site. They were so happy with the initial results they were getting that they replaced their old site with a new one created with JustType.
"Not only did we give our own site a much needed facelift, but we also saved money on the hosting," added Graham. "The costs for each site we purchase, including our own, are very good, starting at just £69+vat/year for the design tool, hosting, email and domain name registration."
As with any website design business SEO is vitally important to ensure their sites get good search engine rankings. JustType provides all the necessary fields and access to Meta tags to ensure flexible configuration for SEO.
"As the JustType sites are OEM branded we have responsibility for technical support for the sites where we hand over the Administration Center," continued Graham. "The quality of the on-line help and tutorials is excellent and has ensured that support issues are few and far between and not a cost issue for our business."